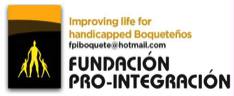 FOUNDATION PRO-INTEGRATION
Handicapped Foundation
Email - fpiboquete@hotmail.com
Phones:
+507 6558 7233 Spanish
+507 6677 3443 English
The FPI Handicapped organization, provides services to mostly poor and handicapped Panamanian citizens.
Fundraising via their "store" and sometimes large sales.
Store Hours: Monday, Tuesday, Wednesday 9AM to 2PM.
FPI will re-open their Saturday get togethers, and thus, they will need 1 or 2 volunteer coordinators for Saturdays from 8:30am to 1:30pm.
To work with the handicapped and their carers, the best personalities are compassionate extroverts, who can speak some Spanish. Though language is not essential as most of this is touch and show.
Looking for 10 or so volunteers
To play with kids 3 to 6 years of age
To play with older children (puzzles) crayons etc.
Teach English
Bring and help with art projects
Entertain in other ways, music, dance, etc.
Help to clean up and close up the facility - we know as the store.
Additionally they are looking for:
A handyman who can do some building maintenance and maybe know plumbing and electric and has tools.
Someone with a truck and 2 buddies.
A book keeper or accountant who is computer savvy.
Donation of a newer computer would also be welcome - either Mac or PC.